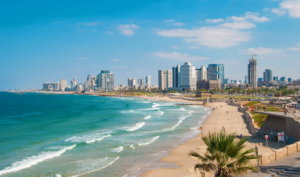 Among the various places to visit in Israel, Jerusalem is the largest city, boasting a population of 865,700. The number of visitors on a daily basis is staggering. So, you're online looking at flights and plane tickets, planning your trip to Israel. You finally come across a package that perfects your travel experience and when you go to pay for it, you're approached with the additional cost of travel insurance.
A lot of people, while planning for and purchasing travel packages, skip paying extra for travel insurance. It's always when you're about to check out and purchase your tickets that it pops up, adding more money to an already expensive bit of travel. Now, it's your prerogative to buy or not buy whatever you want, but we're totally on board with trip insurance. Why do we think you shouldn't travel without it? We've got some ideas.
You might already have it
Some travel credit cards have travel insurance included as a perk with your annual fee. Check with your card provider and make sure you're not missing out on something you're already paying for. In this case, it's already there and it'd be silly not to take advantage of it.
Peace of mind
Travel is always unpredictable. Insurance on your trip protects you in the face of lost/stolen luggage, injury, illness, medical attention, flight cancellation/reschedule, and more. Finding out exactly what is covered is important to keep that peace of mind, but in foregoing travel insurance, you're betting against the unpredictable. We don't wish any problems whilst traveling, but in the case that something unpredictable does happen, travel insurance will save you money and time.
Familiarity
We've mentioned a lot of extreme cases, but travel insurance can help you navigate ordinary circumstances in places you aren't familiar with. Instead of worrying yourself with the minute details and logistics, your trip insurance can help you maneuver the systems of foreign countries and point you in the right direction. Their expertise is a formidable ally to have on your side in your travels.
Nobody likes to think of unpredictable hassles when planning a trip, but it's good form to hedge your bets against them. Travel insurance is your first line of defense and it'll serve as a security blanket that'll provide a little peace in the back of your mind, so you can enjoy your trip unimpeded by needless stress.