Shabbat Shalom from Jerusalem!
Bus 641 has had a very fun and jam-packed schedule making this past week a very busy and amazingly memorable week for us here in Israel!
On Monday we drove to the big and bustling city of Tel Aviv where we saw a beautiful view of the Mediterranean coastline out our bus windows. We met and were introduced to our 8 incredible Israeli soldiers who joined our group and then spent the whole week with our group, hanging out and getting to know each other.
Once we became acquainted with our new Israeli friends, we all went to visit Independence Hall in Tel Aviv, where Israel became an independent Jewish state in 1948. For lunch we went to the colorful and vibrant shuk, open air market, where we all enjoyed tasting a variety of interesting and delicious foods from falafel and shawarma, to fresh pomegranate seeds and sesame halva. We may have learned a word or two in Hebrew from the Israeli soldiers as they helped us select and order foods to eat in the market!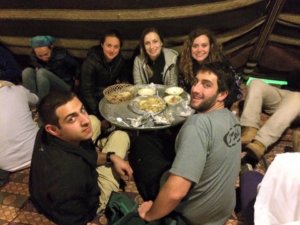 On Tuesday we all woke up at 4am in order to catch a stunning sunrise during our hike up Masada. On top of Masada we celebrated and congratulated one another as some from our group were part of a Bar and Bat Mitzvah ceremony, and we also learned about the ancient Roman ruins from our tour guide, Myriam. Following hiking of Masada, we went on another hike to the waterfalls of Ein Gedi, and afterwards we proceeded to the Dead Sea where everyone enjoyed floating in the lowest body of water on earth, and rubbing Dead Sea mud on their skin afterwards. We spent that night in the South of Israel at a Bedouin tent in the Negev desert, where we ate traditional Bedouin food, and enjoyed each other's company around a bonfire. Our Israeli peers taught us some traditional Israeli Hebrew songs.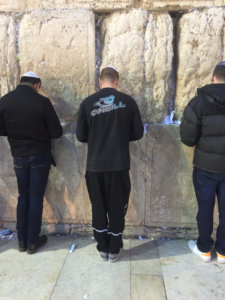 We headed to Jerusalem the next day, and we went to several important landmarks and meaningful sites. We visited Mount Herzl, Israel's national military cemetery. This important visit allowed us to pay honorable tribute to those who have lost their lives serving the country of Israel, and protecting the Jewish homeland. Later, after a walking tour of the Old City of Jerusalem where we saw the beautiful Jerusalem stone that adorns the Jewish Quarter, we visited the sacred and holy Western Wall where everyone in our group was invited to take some individual time at the Kotel on their own, for personal prayer and/or reflection.
Finally, our group visited Yad Vashem, Israel's Holocaust Memorial Museum located in the beautiful hills of Jerusalem. Our dignified Israeli soldier friends dressed in uniform, and joined us as a tour guide spoke to us about the Holocaust in the museum's exhibits. It was an emotional and meaningful experience to have together.
We unfortunately had to say goodbye to our Israeli peers who went home, which was sad, but hopeful as we all flurried to share contact information with our new friends. We are now preparing to enjoy a restful Shabbat together as one big Taglit mishpacha (family).
B'shalom,
Matt and Amy