Hey everyone!
We have been keeping busy!
Monday-We went to Yad Vashem (Holocaust Memorial and Museum) and went to the National Memorial on Mount Herzl. We then drove to Ein Gedi.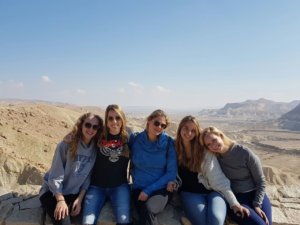 Tuesday-We woke up super early so that we could hike to the top of Masada before the sun went up. We learned about the history of Masada and hiked back down where we enjoyed breakfast at the bottom. We then ventured to the Dead Sea where we covered ourselves in mud and waded into the water at the lowest point on earth. We then headed towards the Bedouin tents where we rode camels, had a traditional Bedouin feast, and all slept together on pads on the floor of a tent (our version of roughing it).
Wednesday-Today we rode bikes in Sde Boker and ended at Ben Gurion's grave. The grave is at a gorgeous overlook in a national park (pictures attached). We then went to a farm where we got to taste a variety of fruits and vegetables and then headed to Yehud.
Thursday-Today was our last day with the Israelis. We started by going to Independence hall and Rabin square. Then we split into groups and went with each Israeli to their homes. We then said goodbyes and parted ways. We really enjoyed our time getting to know all of them.