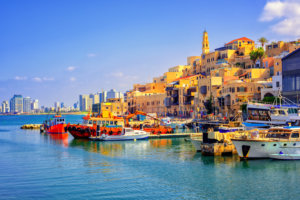 For LGBTQ travelers and allies, Israel Outdoors offers an experience like no other. Here are just a few things you can expect to look forward to while traveling with Israel Outdoors during Tel Aviv Pride.
Experience Tel Aviv's thriving LGTBQ community
Tel Aviv is Israel's second largest city with a population of 439,000. Tel Aviv is the modern cosmopolitan city you'll be sure to fall in love with the moment you step foot in this groovy metropolis of urban renewal.
However, your trip is more than just about experiencing a glamorous city. While on your Birthright Israel trip to Israel, you'll be traveling during the week of Tel Aviv Pride, the week-long event series celebrating the local LGBTQ community. Whether or not you've been to Pride before, this experience is sure to outshine all others (especially since Tel Aviv Pride Parade is the largest in the Middle East and Asia)!
Meet with Tel Aviv's local activists
Many young people in the LGBTQ community don't have the opportunity to meet with those who have been striving to make social and political gains for years. Through Israel Outdoors, you'll be able to not only experience Tel Aviv Pride but also meet with local activists.
Grassroots activism is essential for making change in public policy. By sharing personal stories and discussing political topics with activists in Tel Aviv, not only can you learn more about international activism but you can also learn how to bring that activism back to your home country.
Learn about Israel's LGBTQ history
Understanding the past is essential to understanding the present. On your Birthright trip to Israel, you'll gain insight into your heritage and where the LGBTQ culture stands within that heritage. The cross-cultural awareness and understanding you gain from your LGBTQ experience in Israel will be unlike any other.
For a Birthright Israel trip that lets you experience LGBTQ activism, history, and pride in Israel, choose Israel Outdoors today.